Associate Professor of Orthopaedics and
Adjunct Associate Professor of Oncological Sciences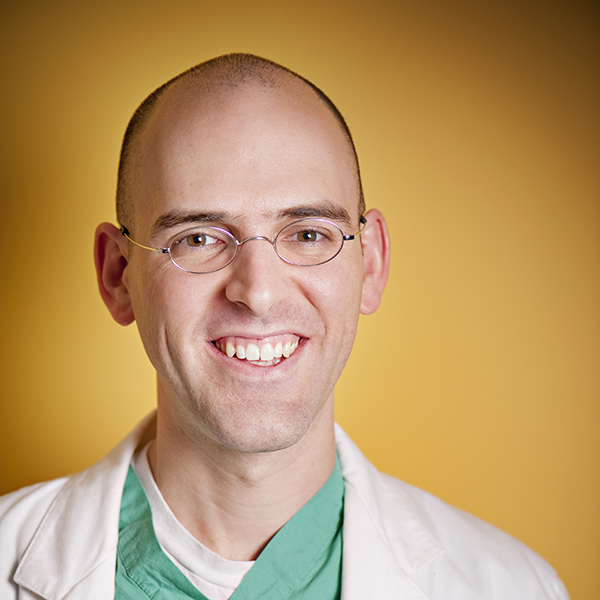 A.B.
Harvard University
M.D.
Johns Hopkins University
Kevin Jones' Lab Page
Kevin Jones' PubMed Literature Search
Molecular Biology Program
Mouse Genetic Model, Epigenetics, Pediatric Cancer, Soft-tissue Sarcoma, Translocation
Research
We focus most of our research on dissecting the genetic and epigenetic underpinnings of sarcoma initiation. Although sarcomas are rare cancers, the tissues which give rise to sarcomas when they become cancerous are the predominant tissues in the human body, the muscles, tendons, bones, vessels, fat, etc. These tissues derive from mesenchyme or mesoderm. While many organ-based cancer cells gain some characteristics of mesenchyme or mesoderm as they become malignant, turning mesenchyme itself into cancer is much more difficult. The intrinsic resistance to transformation (the process of becoming cancerous) in mesenchyme has brought particular focus to any factor capable of overcoming that resistance and forming cancers from connective tissues.Thus, sarcomas--not only in spite of, but actually because of their low frequency in the general population--have played a central role in the fundamental discoveries of cancer biology. For example, radium dial painters developing osteosarcomas led to the discovery that radiation causes cancer. Oncogenes, the tumor causing genes, were discovered by study of a virus that caused sarcomas in birds. Tumor suppressor genes, the genes that when turned off lead to cancer, were discovered because families had too many sarcomas (Even two is way too common in any one family!) We therefore pursue sarcoma biology vigorously not only because we need to generate better treatment strategies for this horrible group of cancers that impacts young people disproportionately, but also because sarcoma will likely yet teach us much more about cancer biology in general, especially its beginnings.
References
Selected Publications:
Barrott JJ, Kafchinski LA, Jin H, Potter JW, Kannan SD, Kennedy R, Mosbruger T, Wang WL, Tsai JW, Araujo DM, Liu T, Capecchi MR, Lazar AJ, Jones KB. (2016) Modeling synovial sarcoma metastasis in the mouse: PI3'-lipid signaling and inflammation. J Exp Med 213:2989-3005.
Horne L, Avilucea FR, Jin H, Barrott JJ, Smith-Fry K, Wang Y, Hoang BH, Jones KB. (2016) LRP5 Signaling in Osteosarcomagenesis: a Cautionary Tale of Translation from Cell Lines to Tumors. Transl Oncol 9:438-444.
Barrott JJ, Illum BE, Jin H, Zhu JF, Mosbruger T, Smith-Fry K, Cable M, Wang Y, Grossmann AH, Capecchi MR, Jones KB (corresponding). (2015). β-catenin stabilization enhances SS18-SSX2-driven synovial sarcomagenesis and blocks the mesenchymal to epithelial transition. Oncotarget. 6(26):22758.
Jones KB (corresponding), Barrott JJ, Xie M, Haldar M, Jin H, Zhu JF, Monument MJ, Mosbruger TL, Langer EM, Randall RL, Wilson RK, Cairns BR, Ding L, Capecchi MR. (2016). The impact of chromosomal translocation locus and fusion oncogene coding sequence in synovial sarcomagenesis. Oncogene. 35:5021-32.
Quist TS, Jin H, Zhu JF, Smith-Fry K, Capecchi MR, Jones KB (corresponding). (2014). The impact of osteoblastic differentiation on osteosarcomagenesis in the mouse. Oncogene. 34(32):4278-84.
de Andrea CE, Zhu JF, Jin H, Bovée JV, Jones KB (corresponding). (2015) Cell cycle deregulation and mosaic loss of Ext1 drive peripheral chondrosarcomagenesis in the mouse and reveal an intrinsic cilia deficiency. J Pathol. 236(2):210-8.
Goodwin, ML, Jin H, Straessler K, Smith-Fry K, Zhu JF, Grossmann AH, Randall RL, Capecchi MR, Jones KB (corresponding). (2014). Modeling alveolar soft part sarcomagenesis in the mouse: a role for lactate in the tumor microenvironment. Cancer Cell. 26(6):851-62.
Jones KB, Su L, Jin H, Lenz C, Randall RL, Underhill TM, Nielsen TO, Sharma S, Capecchi MR. (2013). SS18-SSX2 and the mitochondrial apoptosis pathway in mouse and human synovial sarcomas. Oncogene. 32(18):2365-71.
Jones KB (co-corresponding), Salah Z, Del Mare S, Galasso M, Gaudio E, Nuovo GJ, Lovat F, LeBlanc K, Palatini J, Randall RL, Volinia S, Stein GS, Croce CM, Lian JB, Aqeilan RI. (2012). miRNA signatures associate with pathogenesis and progression of osteosarcoma. Cancer Res. 72(7):1865-77.
Jones KB (corresponding), Piombo V, Searby C, Kurriger G, Yang B, Grabellus F, Roughley PJ, Morcuende JA, Buckwalter JA, Capecchi MR, Vortkamp A, Sheffield VC. (2010). A mouse model of osteochondromagenesis from clonal inactivation of Ext1 in chondrocytes. Proc Natl Acad Sci U S A. 107(5), 2054-9.