Professor of Chemistry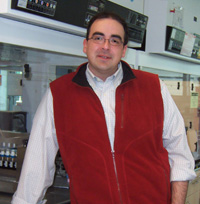 B.S. Western Washington University
Ph.D. Colorado State University
Ryan Looper's Lab Page
Ryan Looper's PubMed Literature Search
Biological Chemistry Program
Small Molecule Interactions in Biological Systems
Research
Our research program emphasizes the importance of small molecule interactions within biological systems. New synthetic methodology drives the synthesis of natural products and fragment based small molecule collections. An ancillary, yet possibly more profound goal of this program is to arm our national screening infrastructure with skeletally intriguing small molecules. These collaborative efforts facilitate the discovery of new targets and strategies for the advancement of biomedical research. Initially, our synthetic achievements will be aimed at exploring post-translational arginine modifications in cell signaling. The recent implication of these events in a number of disease states (multiple sclerosis, rheumatoid arthritis, glaucoma and tumorogenesis) encourages the preparation of biological tools and therapeutic leads. Projects poised to deliver antibiotic collections for the inhibition of prokaryotic protein synthesis will also be initiated. Molecules with purported rRNA binding interactions that are uncharacterized or non-overlapping with known sites of resistance will be targeted to advance our understanding of RNA's binding topology.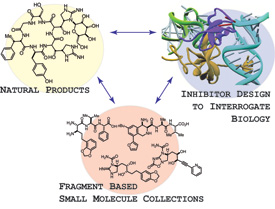 References
Fan J, Teng X, Liu L, Mattaini KR, Looper RE, Vander Heiden MG, Rabinowitz JD. Human phosphoglycerate dehydrogenase produces the oncometabolite D-2-hydroxyglutarate. ACS Chem Biol. 2015 Feb 20;10(2):510-6.
Kwon KH, Serrano CM, Koch M, Barrows LR, Looper RE. Synthesis of bicyclic guanidines via cascade hydroamination/Michael additions of mono-N-acryloylpropargylguanidines. Org Lett. 2014 Dec 5;16(23):6048-51.
Basham KJ, Bhonde VR, Kieffer C, Mack JB, Hess M, Welm BE, Looper RE. Bis-aryloxadiazoles as effective activators of the aryl hydrocarbon receptor. Bioorg Med Chem Lett. 2014 Jun 1;24(11):2473-6.
Gligorich KM, Vaden RM, Shelton DN, Wang G, Matsen CB, Looper RE, Sigman MS, Welm BE. Development of a screen to identify selective small molecules active against patient-derived metastatic and chemoresistant breast cancer cells. Breast Cancer Res. 2013;15(4):R58.
Yang M, Odelberg SJ, Tong Z, Li DY, Looper RE. Cationic dirhodium carboxylate-catalyzed synthesis of dihydropyrimidones from propargyl ureas. Tetrahedron. 2013 Jul 8;69(27-28):5744-5750.
Losman JA, Looper RE, Koivunen P, Lee S, Schneider RK, McMahon C, Cowley GS, Root DE, Ebert BL, Kaelin WG Jr. (R)-2-hydroxyglutarate is sufficient to promote leukemogenesis and its effects are reversible. Science. 2013 Mar 29;339(6127):1621-5.
Basham KJ, Kieffer C, Shelton DN, Leonard CJ, Bhonde VR, Vankayalapati H, Milash B, Bearss DJ, Looper RE, Welm BE. Chemical genetic screen reveals a role for desmosomal adhesion in mammary branching morphogenesis. J Biol Chem. 2013 Jan 25;288(4):2261-70.
Gibbons JB, Gligorich KM, Welm BE, Looper RE. Synthesis of the reported structures for kealiinines B and C. Org Lett. 2012 Sep 21;14(18):4734-7.
Haussener TJ, Looper RE. Access to the pactamycin core via an epoxide opening cascade. Org Lett. 2012 Jul 20;14(14):3632-5.
Koivunen P, Lee S, Duncan CG, Lopez G, Lu G, Ramkissoon S, Losman JA, Joensuu P, Bergmann U, Gross S, Travins J, Weiss S, Looper R, Ligon KL, Verhaak RG, Yan H, Kaelin WG Jr. Transformation by the (R)-enantiomer of 2-hydroxyglutarate linked to EGLN activation. Nature. 2012 Feb 15;483(7390):484-8.
Bhonde VR, Looper RE. A stereocontrolled synthesis of (+)-saxitoxin. J Am Chem Soc. 2011 Dec 21;133(50):20172-4.
Serrano CM, Looper RE. Synthesis of cytimidine through a one-pot copper-mediated amidation cascade. Org Lett. 2011 Oct 7;13(19):5000-3.
Looper RE, Haussener TJ, Mack JB. Chlorotrimethylsilane activation of acylcyanamides for the synthesis of mono-N-acylguanidines. J Org Chem. 2011 Aug 19;76(16):6967-71.
Gainer MJ, Bennett NR, Takahashi Y, Looper RE. Regioselective rhodium(II)-catalyzed hydroaminations of propargylguanidines. Angew Chem Int Ed Engl. 2011 Jan 17;50(3):684-7.
Giles RL, Nkansah RA, Looper RE. Synthesis of 2-thio- and 2-oxoimidazoles via cascade addition-cycloisomerization reactions of propargylcyanamides. J Org Chem. 2010 Jan 1;75(1):261-4. Kaadige MR, Looper RE, Kamalanaadhan S, Ayer DE. Glutamine-dependent anapleurosis dictates glucose uptake and cell growth by regulating MondoA transcriptional activity. Proc Natl Acad Sci U S A. 2009 Sep 1;106(35):14878-83. doi: 10.1073/pnas.0901221106. Epub 2009 Aug 17.
Giles RL, Sullivan JD, Steiner AM, Looper RE. Addition-hydroamination reactions of propargyl cyanamides: rapid access to highly substituted 2-aminoimidazoles. Angew Chem Int Ed Engl. 2009;48(17):3116-20.
Looper RE, Pizzirani D, Schreiber SL. Macrocycloadditions leading to conformationally restricted small molecules. Org Lett. 2006 May 11;8(10):2063-6. Erratum in: Org Lett. 2009 Aug 6;11(15):3522.
Looper RE, Runnegar MT, Williams RM. Synthesis of the putative structure of 7-deoxycylindrospermopsin: C7 oxygenation is not required for the inhibition of protein synthesis. Angew Chem Int Ed Engl. 2005 Jun 20;44(25):3879-81.
Looper RE, Williams RM. A concise asymmetric synthesis of the marine hepatotoxin 7-epicylindrospermopsin. Angew Chem Int Ed Engl. 2004 May 24;43(22):2930-3.
Vyvyan JR, Loitz C, Looper RE, Mattingly CS, Peterson EA, Staben ST. Synthesis of aromatic bisabolene natural products via palladium-catalyzed cross-couplings of organozinc reagents. J Org Chem. 2004 Apr 2;69(7):2461-8.