Distinguished Professor of Pharmaceutics & Pharmaceutical Chemistry
and Distinguished Professor of Bioengineering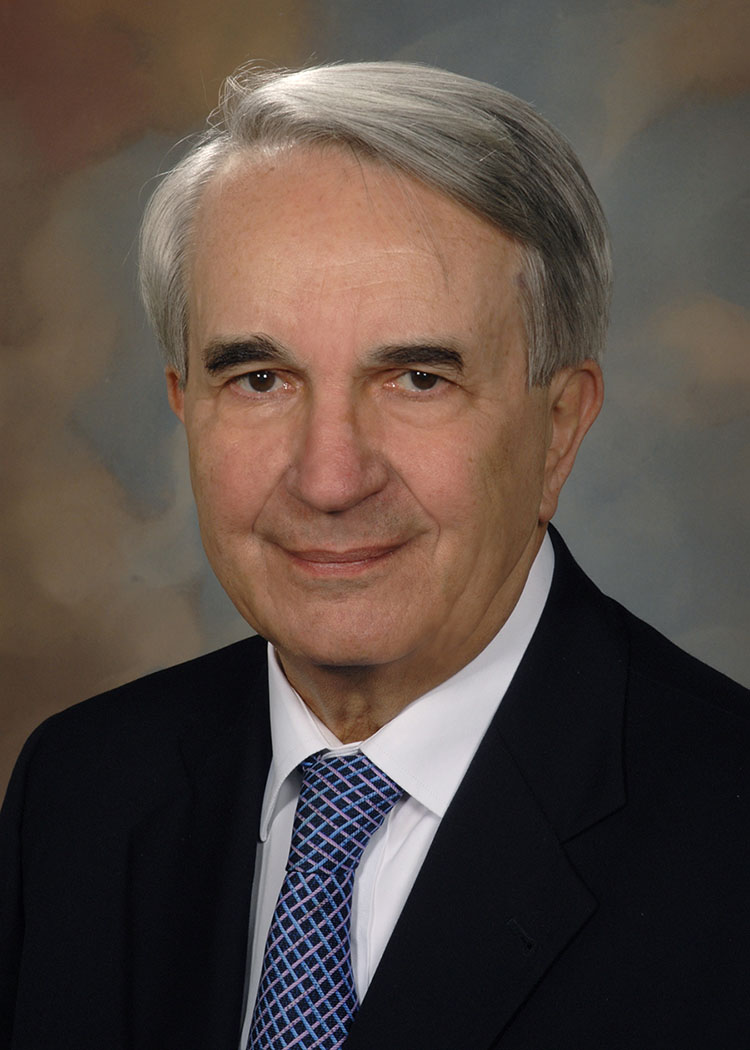 M.S. Institute of Chemical Technology, Czechoslovakia
Ph.D. Institute of Macromolecular Chemistry, Czechoslovakia
D.Sc. Czechoslovak Academy of Sciences, Czechoslovakia
Jindřich Kopeček's Lab Page
Jindřich Kopeček's PubMed Literature Search
Biological Chemistry Program
Biorecognition & Drug Delivery
Research
Research in the Kopeček Biomedical Polymers Laboratory focuses on three areas: a) Macromolecular therapeutics with emphasis on development of polymeric drug carriers and novel therapeutic strategies; b) Design of smart biomaterials that self-assemble from hybrid copolymers composed of synthetic polymers and protein/peptide domains; c) Application of biomaterials biorecognition principles to biological systems – drug-free macromolecular therapeutics.
Macromolecular therapeutics
Recent research focuses on the design of backbone degradable, long-circulating polymer carrier – drug conjugates for the treatment of ovarian and prostate cancer and treatment of musculoskeletal diseases, especially osteoporosis. These second-generation conjugates have (when compared to the first generation) longer intravascular half-life and higher accumulation in tumor tissue. Combination therapy targeting both tumor-initiating and differentiated prostate cancer cell populations is also studied.
Smart biomaterials
The research centers on the design of polymer – peptide/protein hybrid biomaterials, whose self-assembly is mediated by coiled-coil and beta-sheet forming peptide domains. These materials are being evaluated as biomineralization matrices for bone tissue engineering and as 3D cell culture scaffolds.
Drug-free macromolecular therapeutics
A new therapeutic approach for the treatment of non-Hodgkin's lymphoma has been developed.Formation of antiparallel coiled-coil heterodimers or hybridization of complementary oligonucleotides on B-cell surfaces results in crosslinking of CD20 receptors and apoptosis of Raji B cells. This is a new concept, where the biological activity of drug-free macromolecular therapeutics is based on the biorecognition of complementary motifs.
References
Li L, Yang J, Wang J, Kopeček J (2018) Amplification of CD20 Crosslinking in Rituximab Resistant B-lymphoma Cells Enhances Apoptosis Induction by Drug-Free Macromolecular Therapeutics. ACS Nano 12:3658-3670
Li L, Yang J, Wang J, Kopeček J (2018) Drug-Free Macromolecular Therapeutics Induce Apoptosis via Calcium Influx and Mitochondrial Signaling Pathway. Macromol. Biosci. 18(1), doi: 10.1002/mabi.201700196
Yang J, Kopeček J (2017) The Light at the End of the Tunnel – Second Generation HPMA Conjugates for Cancer Treatment. Curr. Opin. Colloid Interface Sci. 31:30-42
Zhang L, Fang Y, Kopeček J, Yang J (2017) A New Construct of Antibody-Drug Conjugates for Treatment of Non-Hodgkin's Lymphoma. Eur. J. Pharm. Sci. 103:36-46
Yang J, Zhang R, Pan H, Li Y, Fang Y, Zhang L, Kopeček J (2017) Backbone Degradable HPMA Copolymer Conjugates with Gemcitabine and Paclitaxel: Impact of Molecular Weight on Activity toward Human Ovarian Carcinoma Xenografts. Mol. Pharmaceutics 14:1384-1394
Zhang L, Fang Y, Yang J, Kopeček J (2017) Drug-Free Macromolecular Therapeutics: Impact of Structure on Induction of Apoptosis in Raji B Cells. J. Controlled Release 263:139-150
Zhang R, Yang J, Radford DC, Fang Y, Kopeček J (2017) FRET Imaging of Enzyme-Responsive HPMA Copolymer Conjugate. Macromol. Biosci. 17:1600125; doi: 10.1002/mabi.201600125
Low SA, Galliford CV, Jones-Hall YL, Roy J, Yang J, Low PS, Kopeček J (2017) Healing Efficacy of Fracture-Targeted GSK3b Inhibitor-Loaded Micelles for Improved Fracture Repair. Nanomedicine (Lond.) 12:185-193
Hartley JM, Zhang R, Gudheti M, Yang J, Kopeček J (2016) Tracking and Quantifying Polymer Therapeutic Distribution on a Cellular Level Using 3D dSTORM. J. Controlled Release 231:50-59
Zhang L, Zhang R, Yang J, Wang J, Kopeček J (2016) Indium-based and Iodine-based Labeling of HPMA Copolymer-Epirubicin Conjugates: Impact of Structure on the In Vivo Fate. J. Controlled Release 235:306-318
Zhang R, Yang J, Zhou Y, Shami PJ, Kopeček J (2016) N-(2-Hydroxypropyl)methacrylamide Copolymer-drug Conjugates for Combination Chemotherapy of Acute Myeloid Leukemia. Macromol. Biosci. 16:121-128.
Yang J, Zhang R, Radford DC, Kopeček J (2015) FRET-Trackable Biodegradable HPMA Copolymer-Epirubicin Conjugates for Ovarian Carcinoma Therapy. J. Controlled Release 218:36-44
Chu TW, Kopeček J (2015) Drug-Free Macromolecular Therapeutics – A New Paradigm in Polymeric Nanomedicines. Biomaterials Sci. 3:908-922
Chu TW, Feng J, Yang J, Kopeček J (2015) Hybrid Polymeric Hydrogels via Peptide Nucleic Acid (PNA)/DNA Complexation. Controlled Release 220:608-616
Chu TW, Zhang R, Yang J, Chao MP, Shami PJ, Kopeček J (2015) A Two-Step Pretargeted Nanotherapy for CD20 Crosslinking May Achieve Superior Anti-Lymphoma Efficacy to Rituximab. Theranostics 5:834-846
Peng ZH, Kopeček J (2015) Enhancing Accumulation and Penetration of HPMA Copolymer Doxorubicin Conjugates in 2D and 3D Prostate Cancer Cells via iRGD Conjugation with an MMP-2 Cleavable Spacer. J. Am. Chem. Soc. 137:6726-6729
Zhang R, Yang J, Sima M, Zhou Y, Kopeček J (2014) Sequential Combination Therapy of Ovarian Cancer with Degradable N-(2-Hydroxypropyl)methacrylamide Copolymer Paclitaxel and Gemcitabine Conjugates. Proc. Natl. Acad. Sci. USA 111:12181-12186
Zhou Y, Yang J, Rhim J, Kopeček J (2013) HPMA Copolymer-based Combination Therapy Toxic to both Prostate Cancer Stem/Progenitor Cells and Differentiated Cells Induces Durable Anti-tumor Effects. J. Controlled Release 172:946-953